Gem Rocks

Gem Rocks - Slot Review
Gem Rocks is a-rockin' new online slots game which has just been released and is ready for you to start playing for big prizes! This is a 6-reel, 4 slot game which has a massive 4096 ways for you to win! This game is themed around rocks, stones and gems with a beautifully designed interface and great prizes to be won. Check out our entire list of slot games.
Place bets from as little as 25p per spin on Gem Rocks, or all the way up to £100 per spin! The game is compatible with desktops, tablets and mobiles so you can play wherever you want to. Keep an eye out for symbols that will offer you more prizes; there are 8 regular gemstones to get aligned, however the most valuable is the Star, as this one will give you 75 coins when you get 5 of them together. Get the best out of our UK casino promotions before you play the game!
About the most Recent Slot Game Developers
Yggdrasil Gaming is a Swedish software development company who specialise in making high quality and fun games for the online casino industry. You can see their high standard for quality within the work they did creating Gem Rocks. They are newcomers on the scene, however, they have made quite the splash, winning many awards and seeing huge amounts of success due to their use of innovative technology and high level of customer support.
Yggdrasil is a Scandinavian word which means a huge ash tree which is the home to mythical creatures and the door to all of the mythical worlds, and their mighty name is in keeping with the mighty impression they are leaving on the online casino industry.
Several games at Slots Baby are available to play on all devices, and some popular online slot games include: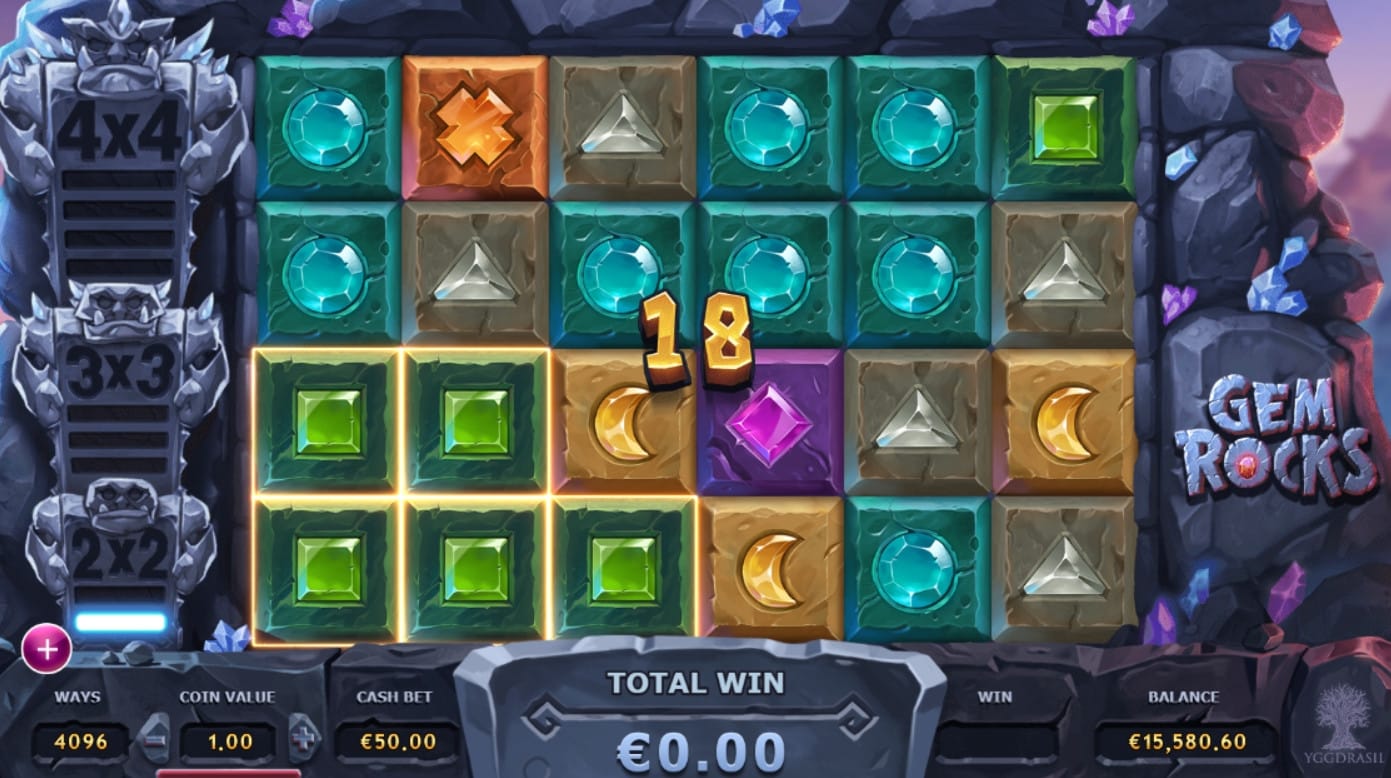 Playing Gem Rocks Slot 
The reels in Gem Rocks include 8 colourful gemstones, and the most valuable of these is the Star, because when you land 3, 4, 5 or 6 of them in a combination you can win 15, 30, 50 or 75 coins! What's more, these numbers can be multiplied when you land a decent cluster of matching symbols.
When you make a successful spin, the Dropdown Wins feature will be activated. This means that the winning symbols are removed from the spin and new symbols drop down to replace them, along with a new payout amount. As long as winning combinations are made, this feature will continue, offering you more chances to win big.
The Gem Rocks feature is the one to look out for. If you keep landing successful wins, you can benefit from expanded Gem Rock symbols. Get 2+ wins in a row, you will get a 2x2 Gem Rock which is made up of identical matching symbols. This expands to 3x3 after 5 wins, and a getting 9 wins in a row will reward you with a 4x4 Gem Rock. Each time a Gem Rock lands you will get a winning combination each time.
There is a constant stream of excitement and action in this game with the chance to win big! It is different from other online slot games but it is a lot of fun, so be sure to try it out today.
Our Final Verdict on this Top UK slots game
Gem Rocks certainly has the features to keep you rocking on the edge of your seat! A brilliant theme with even better gameplay, the type of product that we've become used to seeing from Yggdrasil! If you liked this one, we recommend you also try Fluffy Too Slot.