Stardust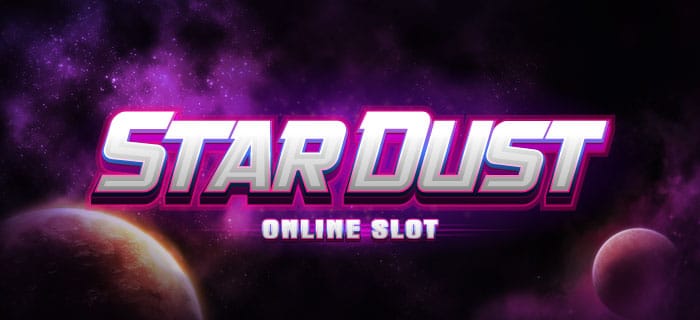 Here's a superb new game from Microgaming. Stardust is a new online slots game in the mould of more retro arcade games. Have a look at other spin slot games! This slot is complimented by old-school graphics and audio, this is a space-themed slot with a twist. Fly through outer space while discovering the mysteries of the universe and picking up prizes along the way! If you love promotions, visit Slotsbaby today.
Microgaming - the Developer of Stardust Slots
2017 has been an immense year for developers Microgaming. Having picked up the award for Best Mobile Gaming Software at the prestigious EGR B2B awards, they also claimed Mobile Product of the Year at the International Gaming Awards and were chosen for the 2017 Spark Award in recognition of their Idea Factory Initiative.
Describing themselves as behind the "world's first true online casino", Microgaming have now positioned themselves as one of the world's leading game developers having created and supplied an incredible amount of quality games since they were founded in 1994, one of them of course being Stardust, it's a great online slot game.
Slots Baby has a good list of impressive slots you must not miss, some of them are:

Playing Stardust Game
Stardust comes with 40 paylines, 5 reels and four rows - plus a top prize of 100,000 coins up for grabs. The aim of the game is to get three or more matching symbols across the five reels.
There are Max Bet and Autoplay options which allow you to set the maximum stake available and turn the reels for a selected amount of times respectively. The game's main bonus features are Free Spin mode and Radiant Re-Spin.
In terms of symbols available to collect in Stardust slot, there are four different types of coloured gems. These are blue, red, green and yellow. These symbols pay out their own prizes if you can match three or more of them and they also activate the Free Spins bonus mode.
With Free Spins mode, you can gain up to 13 free spins. To activate Free Spins mode you have to collect 10 space gems and add them to your stardust meter to the right of the slot casing. You can start collecting gems once you've got the Milky Way icon located on reel 3.
Free Spins mode on Stardust also contains Super Stacked Wilds. These Super Stacked Wilds will help you along on your way to win some mega prizes by giving you even more options for a big winning combination on your reels! 
Radiant Re-Spin means that if you get a three-symbol win, reels 4 and 5 will re-spin once. If you get a four-symbol win, then reel 5 will re-spin once.

The Verdict on Stardust Slots
The intergalactic visuals and retro arcade style theme add to the fast-paced feeling of the game without taking anything from the actual gameplay and without being too distracting. The re-spin feature especially adds an extra bit of fun to the game and the potential prize of up to 100,000 coins is a great incentive to keep you going.
This sci-fi adventure slot is one you'll want to come back to again and again thanks to its simple and exhilarating gameplay as well as its impressively refined presentation.
If you enjoyed Stardust then you might also like Sirens Serenade Online.